6450 Kings Highway South, Zionsville, PA 18092 | 610-965-4880 | info@ummchurch.org
2017 Kids' Fest ~ "Surprise! Stories of Discovering Jesus" (6:00-8:15 p.m., July 16-20 at Upper Milford Mennonite Church)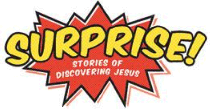 Children will learn stories about discovering Jesus and how he is always with us no matter what. They will learn that we should always be willing to receive a blessing as well as give blessings to others around us. We will also learn that it's okay to ask questions to help us understand things because when we ask, we grow in wisdom. Kids' Fest is free of charge; however, a freewill offering will be taken each night with proceeds going to The Mama Project for baby kits. We look forward to enjoying this time with your children!
Children aged 4 years through entering 6th grade are welcome to join us. For more information, contact Mandy (484-538-4043 or email). Please register by July 14, 2017.

Register Now for fun, Bible lessons, crafts, games, music, and snacks.
Kids' Fest at Upper Milford MC is made possible by friends and members of the congregation.
Empowered by the Holy Spirit we seek to love God, grow in faith, and love one another
by inviting all to know the love of Jesus and by working to meet human needs.
© 2018 Upper Milford Mennonite Church
Webmaster